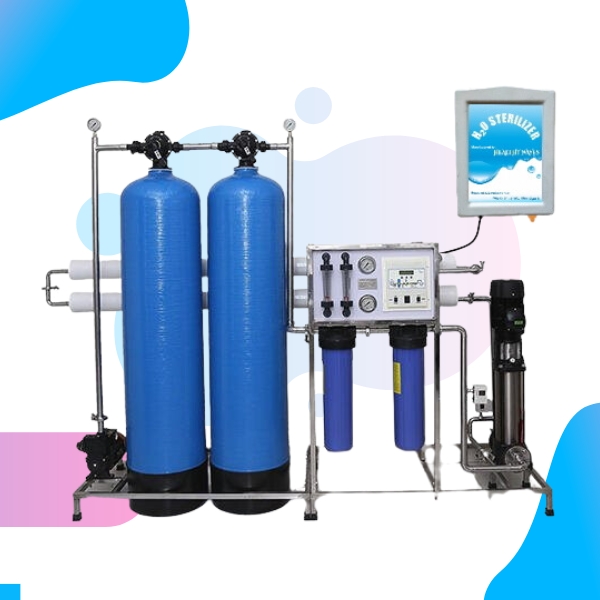 RO Plant Manufacturers
Healthy Waves is one of the most prominent RO Plant Manufacturers in Mohali. If you are looking to replace or upgrade your RO plant for a better quality of providence to your customers then consider us. A reverse osmosis (RO) plant is a water purification system that uses a semi-permeable membrane to remove impurities from water. The process involves applying pressure to the contaminated water, forcing it through the membrane, and leaving behind pure water. This technology is widely used in both residential and commercial applications, as it provides an efficient and cost-effective solution for producing clean drinking water. In addition to our commitment to innovation, we also place a strong emphasis on quality.
Leading RO Plant Manufacturers in Mohali, Punjab
Consider only the most trusted RO Plant Suppliers in Punjab. One of the key factors that set us apart from our competitors is our focus on innovation. We are constantly developing new and improved technologies that enhance the performance and efficiency of our RO plants, ensuring that our customers receive the most advanced and reliable water RO solutions. Don't worry if you are unaware or unsure about the best water solution that you should go for. We have a range of options to choose from such as the most affordable RO Plant, Commercial RO Plant, Commercial Water Purifier, Industrial RO Plant, Mineral Water Plant, RO Water Plant, 500 LPH RO Plant, 1000 LPH RO Plant, Water Purifier Plant, Water Softener. It is up to you.
Best RO Plant Manufacturers And Suppliers in Punjab
As one of the best RO Plant Manufacturers in Punjab, Our team of experts is always available to provide guidance and support throughout the entire process, from initial design to installation and beyond.
Leading RO Plant Manufacturers, we deal in the best quality of RO Plant in Punjab, Haryana, Himachal Pradesh, Chandigarh, Uttarakhand, Uttar Pradesh, Delhi, Rajasthan, Bihar, jammu and kashmir, leh & Ladakh, Amritsar, Barnala, Bathinda, Faridkot, Fatehgarh Sahib, Firozpur, Fazilka, Gurdaspur, Hoshiarpur, Jalandhar, Kapurthala, Ludhiana, Mansa, Moga, Muktsar, Pathankot, Patiala, Rupnagar, Mohali, Sangrur, Nawanshahr, Tarn Taran Sahib, Ambala, Faridabad, Gurugram, Hisar, Karnal, Kaithal, Kurukshetra, Panchkula, Rohtak, Sirsa, Sonipat, Panipat, Shimla, Solan, Una, Baddi, Hamirpur, etc.
Highlighted Features of RO Plant
RO plants are known for their exceptional efficiency in removing impurities from water.
RO plants are designed to eliminate a wide range of contaminants, including dissolved solids, bacteria, viruses, heavy metals, pesticides, and other harmful substances.
RO plants offer flexibility in configuration, allowing them to be tailored to specific water treatment requirements.
Modern RO plants are built with energy-efficient components and systems.
Commercial RO Plant are constructed using high-quality materials that ensure durability and longevity.
Many RO plants are designed with user-friendly features, making maintenance and servicing relatively straightforward.
Healthy Waves one of the leading Healthy Commercial Reverse Osmosis Plant Manufacturers in India, We also offer RO Plant in India, Commercial RO Plant in India, Commercial Water Purifier in India, Industrial RO Plant in India, Mineral Water Plant in India, RO Water Plant in India, 500lph RO Plant in India, 1000lph RO Plant in India,Water Purifier Plant in India, Water Softener in India at best Price
F-395, Industrial area Phase-8B, Sector-90, Mohali, Punjab-160071