Home
Commercial Water Purifier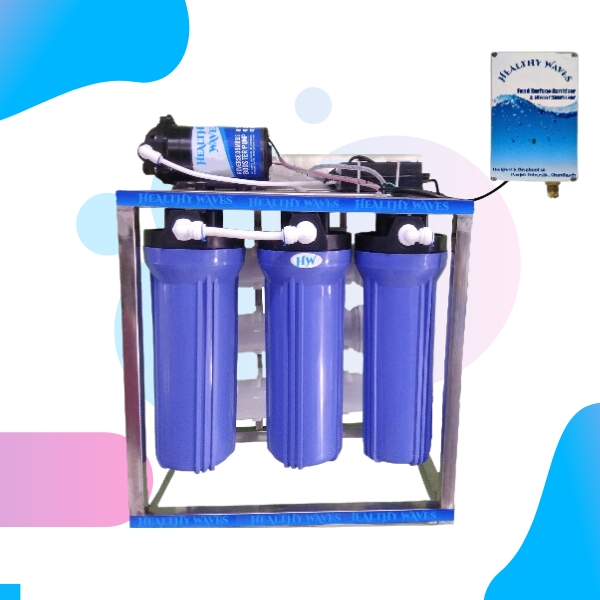 Commercial Water Purifier Manufacturers
Looking for a Commercial Water Purifier Manufacturers in Mohali for your office? Consider Healthy Waves, we are the perfect choice when it comes to water and RO solutions for business and other domains. A Commercial Water Purifier is an essential device that helps in providing safe and pure drinking water in commercial establishments. Now, what do we do? We make a commercial water purifier that helps in the removal of various impurities such as chemicals, bacteria, and other harmful particles from the water to make it fit for consumption. Our Commercial water purifiers are usually used in restaurants, hospitals, offices, and other commercial places that one can think of.
Buy Commercial Water Purifier From Anywhere
Healthy Waves is one of the well-known Commercial Water Purifier Manufacturers in Punjab, Haryana, Himachal Pradesh, Chandigarh, Uttarakhand, Uttar Pradesh, Delhi, Rajasthan, Bihar, jammu and kashmir, leh & Ladakh, Amritsar, Barnala, Bathinda, Faridkot, Fatehgarh Sahib, Firozpur, Fazilka, Gurdaspur, Hoshiarpur, Jalandhar, Kapurthala, Ludhiana, Mansa, Moga, Muktsar, Pathankot, Patiala, Rupnagar, Mohali, Sangrur, Nawanshahr, Tarn Taran Sahib, Ambala, Faridabad, Gurugram, Hisar, Karnal, Kaithal, Kurukshetra, Panchkula, Rohtak, Sirsa, Sonipat, Panipat, Shimla, Solan, Una, Baddi, Hamirpur. We offer RO Plant, Commercial RO Plant, Commercial Water Purifier, Industrial RO Plant, Mineral Water Plant, RO Water Plant, 500 LPH RO Plant,1000 LPH RO Plant, Water Purifier Plant, Water Softener at best price.
Why Are We the Best Commercial Water Purifier Manufacturers in Punjab
Cost-effective - Unlike other water purifier companies we do not pickpocket our customers by charging sky-touching rates. We try to keep it as modest as possible.
Wide range of options - Looking for a shoerted variant of water purifier or a bigger one? Let us help we have a ton of options to choose from.
Eco-friendly - Our water purifiers are eco-friendly and do not produce any harmful by-products. They are designed to conserve water and energy, making them an environmentally conscious choice.
Best Commercial Water Purifier Manufacturers And Suppliers in Mohali, Punjab
In fact, we are also the most positively reviewed Commercial Water Purifier Suppliers in India, This is a great water problem in our country because of which the people who drink contaminated water suffer from various kinds of health issues we have made it our mission to make things better for people around us through constant innovation that leads to safe drinking water.
Healthy Waves one of the leading Healthy Commercial Reverse Osmosis Plant Manufacturers in India, We also offer RO Plant in India, Commercial RO Plant in India, Commercial Water Purifier in India, Industrial RO Plant in India, Mineral Water Plant in India, RO Water Plant in India, 500lph RO Plant in India, 1000lph RO Plant in India,Water Purifier Plant in India, Water Softener in India at best Price
F-395, Industrial area Phase-8B, Sector-90, Mohali, Punjab-160071